Billie Eilish achieved five crowns of Grammy award of 2020 at the youngest in history."Bad Guy is must be the hottest track in 2019 and now goes on.
She is also fashon icon you know, but there are  a rumor that she isn't willing to wear a tank top because she is boobs.
What kind of thing is it? I investigated it!
スポンサーリンク

Billie's Profile?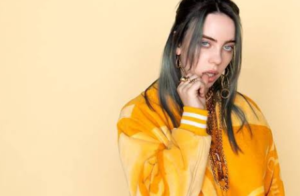 Name:Billie Eilish Pirate Baird O'Connell
Born:December 18, 2001 (age 18)
Place:Los Angeles, California, US
Occupation: Singersongwriter
Years active:2015–prese
His brother, Fineas O'Connell, is an actor writing  songs for Billy.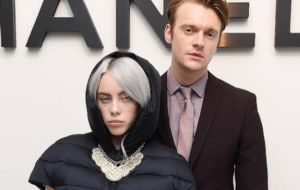 Also, Billy Irish's father: Patrick O'Connell and mother: Maggie Baird are both actors. It's an entertainment family.
Gorgeous family…..
スポンサーリンク

Billy doesn't wear tank tops because…
Billie always wears loose clothes saying "800 sizes bigger than I am "~in her own words~
She is not willing to wear a tank top only because she is boobs.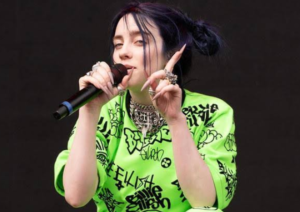 In an interview with the US version of ELLE, Billy talks about her "Size".
"I wear oversized clothes because" You "don't feel uncomfortable looking at my boobs"
More,
"I just wore a tank top when I had a face time with my male friend, and he said," Let's wear a shirt. "
Even if a person with a small breast is allowed with one tank top, if I wear the same tank top, it will be slat shamed just because "I have big boobs." That's ridiculous. Both are the same tank top! "
"Slat shaming" is a word that ridiculed a woman who dressed up as she exposed her skin and posted sexy photos on SNS.
She just doesn't want to be treated like this only by wearing a tank top.
In June 2019, Snap Billy with tank top got flamed on twitter.
Because one of her fans seeing the snap posted
「Billie Eilish is THICK」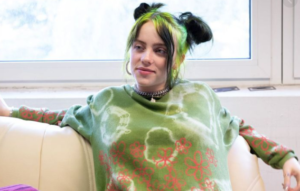 The word "Thick" has also sexual meaning.
Billy said
"My boobs were trending on Twitter! At number one! What is that?! Every outlet wrote about my boobs!"
Billy was only 17-year-old. but were seen as sexual subjects. Public blamed this comment  "It is uncomfortable to see 17-year-old girls as sexual subjects."
Billie said about herself,
"I was born with fucking boobs, bro. I was born with DNA that was gonna give me big-ass boobs."
Also, she criticized the difference in how people with small breasts and people with large breasts saw it.
Someone with smaller boobs could wear a tank top, and I could put on that exact tank top and get slut-shamed because my boobs are big. That is stupid.
But she left comment like this,
"I just wear the clothes I want to wear."
In an interview with Vogue Australia, she explained to wear over-sided clothes because she wants to keep herself a "mystery", and prevent herself from being judged.
Wrap things up
Billie Eilish, the youngest ever to win the Grammy Award in five crowns doesn't wear a tank top.
Because she never wanted be treated as Slat shaming. but same time, there might be some kind of strategy to be "mystery" as an artist.
スポンサーリンク